General consideration II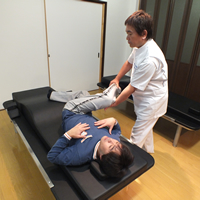 Symptom

This knee pain is frequently experienced by basketball players, with whom inflammation in the anterior or posterior cruciate ligament is often found. One of the causes of this problem is the hardness of the floor of the basketball court. Injury of the ligament normally happens with an intense, sharp, sudden impact on the joint. The injury often involves damage on the meniscus and rapture of the ligament. However, basketball players' injury cases do not usually involve rapture of the ligament; most of their cases are not more serious than an inflammation or hydrops in the knee.
Tamatare Remedy

Tamatare Remedy recovers the metabolism of gastrocnemius muscles of both sides, the soleus muscle, the plantaris muscle, the peroneus, the anterior tibial muscle, and the posterior tibial muscle to enable these muscles to withstand the momentum and the repelling force from the floor that are generated by dashes, stops, and sharp turns. Furthermore, Tamatare Remedy aligns the axes of the surfaces of the hip joints, the knee joints, and the foot joints on both sides of the body to improve the capability of the lower limbs to shift the gravity center of the body. These treatments cure the knee pain.


General consideration IV