General consideration III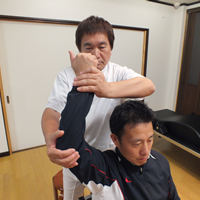 Symptom

This pain often occurs in athletic events in which the players rotate their arms. Its formal name is "supraspinatus syndrome". This problem is caused by calcareous deposit within muscle, and therefore, is also called "calcific inflammation". An athletic event that involves rotating actions gathers cell waste more in a rotator muscle called "supraspinatus muscle". After the immune function of macrophage removes the waste, lime remains.
Tamatare Remedy

Tamatare Remedy quickly cures this problem not only by recovering the metabolism of the supraspinatus muscle, but also by restoring smooth movement of the acromioclavicular joint and the metabolism of other related muscle groups.
Details

Lime is removed in usual cases. But when it is created excessively, the removing process becomes unable to catch up with the accumulation of lime. Development of this condition to some degree narrows the space below the acrominon when the arm is opened aside. In this condition, raising the arm to a certain angle (60 to 120 degrees) produces pain. This problem does not differ among different athletic events. The only cause is excess rotating actions of the arm.

General consideration IV