General consideration III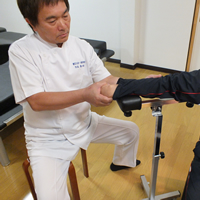 Symptom

This problem is a tendon sheath inflammation, and is often found with volleyball, boat race, table tennis, badminton, soft tennis, and other athletic events in which strong force is exerted with the wrist or finger tip. Since the pain occurs in the neighborhood of the wrist, the affected person tends to think the wrist has been injured, but the problem is caused by excess use of a finger tip in most cases. The reason that the affected person feels pain in the wrist is that the extensor tendon is divided into six sections and each of them runs through the wrist.
Tamatare Remedy

Tamatare Remedy cures this problem by recovering the metabolism efficiency of the forearm extensor muscle group and the opposing forearm flexor muscle.
Details

The six sections of the extensor tendon are:
First tendon section: long abductor muscle of thumb, short extensor muscle of thumb. Second tendon section: long radial extensor muscle of wrist, short radial extensor muscle of wrist.
Third tendon section: long extensor muscle of thumb.
Forth tendon section: common digital extensor muscle, extensor indicis muscle.
Fifth tendon section: extensor digiti minimi muscle.
Sixth tendon section: ulnar extensor muscle of wrist.
Excess use of these extensor muscles requires more lubricant in the sheath. This lubricant is called "joint fluid" and is provided from the articular cavity. When this fluid is provided too much, it leaks from the tendon sheath. This fluid leakage from the tendon sheath causes sharp pain in the wrist located near the tendon sheath.

General consideration IV