General consideration II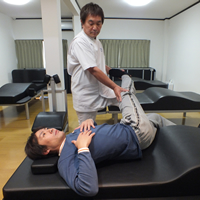 Symptom

Sports lower back pains develop in any type of athletic activities as well as in non-athletic movements that require special training. This includes, for example, to belly dance, tango, and Japanese dance. Sports lower back pains are different from general lower back pains, which occur due to loss of metabolic balance. They are categorized into the acceleration type—excess used of muscle, and the brake type—excess use of the suppression function.
Tamatare Remedy

Tamatare Remedy cures this type of lower back pains by focusing on the recovery of the metabolism efficiency of extensor muscles so as to restore the time lag between the muscle control and the tendon control.
Details

Examples raised in this section are athletic events that cause the brake-type problems by excess use of the control function of tendons. You probably have not heard of the phrase "brake-type lower back pain", so we will get into some details on the brake-type lower back pain here, although it may be somewhat technical. Human movement is actuated by muscle, and so are the bones. Important thing here is to exert the muscle force properly, and that is realized by the tendon. A tendon is at the edge of a muscle, and it adheres to a bone. When an extensor muscle extends, the tendon makes the opposite flexor muscle contract. This contraction is done upon a contraction order from the 1b-afferent fiber, which is covered by the tendon spindle within the tendon. The contraction stops with a suppression order from the 1b-afferent inhibitory fiber. Muscle exerts force through this tendon function. The on and off contraction signals from the tendon are controlled by the neural electric signal and the neural transmitter substance. The muscle and the tendon do not react to these signals simultaneously. The muscle reacts first and then the tendon does. There is a certain lag between them. This lag is equivalent to the neural reaction voltage of about 5 mV. Overwork of the 1b-afferent fiber through excess use of brake shortens the time lag = signal voltage difference. Then the lag before the brake becomes shorter, raising the muscle tension during usual conditions. This weakens the isometric force (force for supporting the body = muscle force for maintaining the posture) of a muscle area that has been exercising frequently. When this muscle area broadens, a lower back pain occurs.

General consideration IV