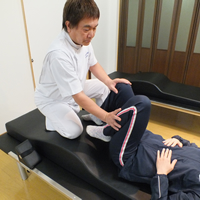 Symptom

This pain is caused by the warped back, and is often experienced by females. The cause of this problem is that the raised pelvis sticks out the abdomen deepening the forward curvature of the lumbar spine, so that the person constantly takes the warped posture.
This condition of the lumbar spine makes the inclination of the pelvis smaller, so that the erector muscle group of spine, which supports the backbone, is kept tense. This tense condition causes a chronic back pain.
Tamatare Remedy

Tamarare Remedy recovers the metabolism efficiency of the erector muscle group of spine and the iliacus muscle group, which engages in movement of the pelvis, so as to correct the warped back and to put the oblique abdominal muscle and other abdominal muscles back into place. This treatment removes the pain and cures the problem.