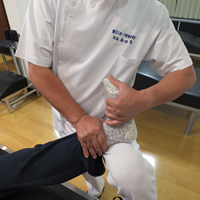 Symptom

This symptom is a pain caused by a problem called "hallux valgus", which is a joint pain of a chronically sprained toe. The big toe having this problem bends inside and its bone extends outside. One tends to consider this bend and extension as the cause of the pain, but this thought is not correct. The outside extension of the bone is called "bunion", and it does not cause a pain by itself. Basically, neither does the bend.
Tamatare Remedy

Tamatare Remedy gives advices on everyday life and aligns the foot joints. A foot has nine joints in the area from the ankle to the toe tips. The bunion and the bend of this problem prevents these nine joints from effectively scattering the weight of the body. To remove the symptom, Tamatare Remedy recovers the metabolism efficiency of the lower limb muscle group so that the ankles and the heels regain the capability of supporting the weight.
Details

If you suffer this symptom, try pinching between the big toe and little toe. You will find that pinching this area does not cause a pain. If you push the big toe from the front, however, you will feel a distinctive pain. Those who suffer this problem tend to wear very wide shoes, but this sometimes aggravates the symptom.
The optimum type of shoes for those having this problem is the one that is tight at the middle of the foot and does no contact the tip of the big toe. A wide shoe does not fit tight at the middle of the foot, so that the big toe contacts the anterior of the shoe when the heel is raised.